There has been a huge amount of coverage in the media about how Oreo was the real winner of Super Bowl 47. The heavenly cookie brand was the first of many brands who jumped on the live-tweeting brands who branded the Super Bowl blackout.
According to Twitter, when the Superdome power went out there was 231,500 tweets per minute. There was literally a half hour where millions of people around the globe had nothing to do but eat snacks, talk about Beyoncé, and Tweet. This was the ideal opportunity for so many brands. While the Super Bowl may be a national event, it was felt around Twitter, globally.
The Strategy
When huge events take place that involve people live-tweeting around the world, the social media team should be completely engaged on all networks. They should be ready to create fun graphics, hashtags, and respond to followers on the fly. This is even more important when all of your main target audience is watching the Super Bowl.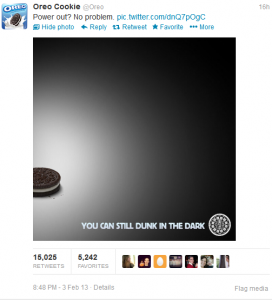 Oreo created a quick image with a simple branded stock photo, text, and a logo within minutes. The perfect timing of the tweet resulted in over 15K retweets. This was an amazingly quick response to an event felt around the country. The simplicity of the image and the message it gave football fans around the world is what made it powerful and share-worthy. The only "miss" for Oreo is the lack of hashtags in this tweet.
The Result
Even though the Super Bowl Oreo commercial promoted their Instagram account, the cookie brand is still tweeting about the Super bowl and still creating quick pictures on Twitter that their audience can share. This is smart because while you can share Instagram to Twitter, the images are not supported on the mobile or web Twitter platform (many brands are still making this mistake).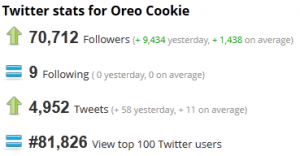 The growth of the brand proves that live-tweeting is remarkably important for brands. Oreo grew out its audience not only on Twitter but on Facebook, where the same image had almost 7K shares. Additionally, the presence and follower count for Oreo on Instagram continues to grow.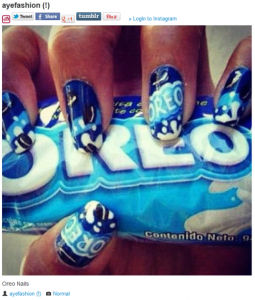 Why?
If the audience is a part of a live event, the brand should be too. Not only does it tell the followers that the brand is current and fun but it allows them to engage with the brand in off-topic conversation.
When brands have conversations online with customers that are not sales-driven, customer service-related, or reputation-driven, they show the user the friendlier side of a brand. This strategy helps to continuously hold the attention of the customer.
Unexpected occurrences, such as the power outage, are a great way to engage with customers at their level. Keeping the social media team in place and having fun with these types of events are a great way to stay on top of strategy and promote brand awareness ­– even if you don't sell delicious cookies.
Written by Stephanie Weingart, Social Media Coordinator & Community Manager