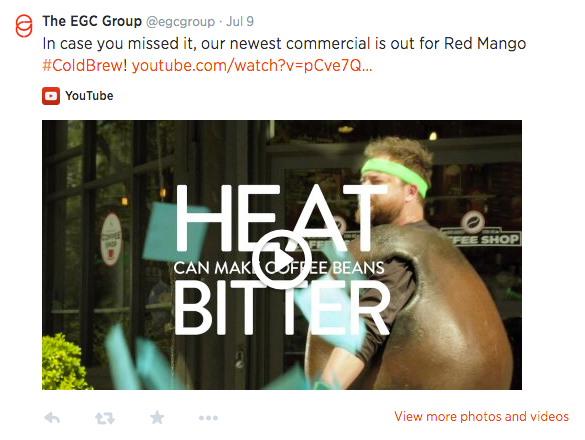 First, What Are Twitter Cards?
Twitter Cards were introduced as a way to let businesses and users get more out of tweets than just the 140 character limit. Twitter Cards allow users to discover a more interactive, visual, and engaging experience by adding a simple URL to any tweet (on any device) through Twitter.
In this blog, we will discuss how to take your tweets to the next level with Twitter Cards and make them more engaging –ultimately increasing conversions from your social efforts.
Originally, creating Twitter Cards was a rigorous process which involved dipping into the web development side of your website by adding Meta tags to your website (among other technical procedures). Fortunately, we found a much easier, point-and-click process for you to start using Twitter Cards!
Step 1: Log Into Twitter Ads
The first step towards creating your first Twitter Card is to log in at ads.twitter.com. (Don't worry – you don't have to spend any money. Putting a budget behind your Twitter Cards is optional). The next step is to click into the "Creatives" menu and click on cards.
Step 2: Creating Your First Twitter Card
Now that we are in the Twitter Cards Manager screen, we can decide which type of Twitter Card we want to create. You can choose between lead generation (which allows you to collect email addresses from your followers, but requires an ad budget), website promotion (feature a direct link), basic app (promote app installs on iOS or Google Play), or an image app card (promote app installs on iOS or Google Play with a piece of visual creative).
Step 3: Fill Out Your Twitter Card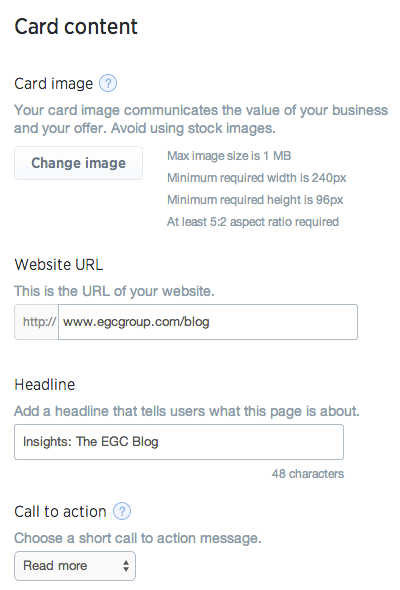 During this step, you will have to fill out four fields. Then, you can start tweeting your new Twitter Cards right away! Website Twitter Cards allow you to upload a photo to add a visual aspect to your tweet, which will make you stand out from the plain text tweets in most people's Twitter feeds. Next, enter your Website URL that you want to promote and send your Twitter Followers to. The "Headline" field allows you to add 70 characters to explain where the website URL is taking them (this will appear under the tweet text and photo). Finally, choose the call to action, from a list supplied by Twitter: "Read More," "Shop Now," "View Now," "Visit Now," or "Book Now." Then simply name your Twitter Card, hit the "Create card" button, and your Twitter Card is ready to tweet!
Now that you have created your Twitter Card, you can access it through your Cards Manager. This is where you can compose new tweets with your Twitter Cards attached. Twitter allows you to schedule, promote, and see how well your Twitter Cards perform via analytics.
Twitter Cards take a little bit of extra work but are a powerful tool that allows you the flexibility to display additional text or visual content to tweets which provide your users with more engaging posts. As you can see from these three steps, it is a very simple, and is worth putting the extra time towards for more quality content.