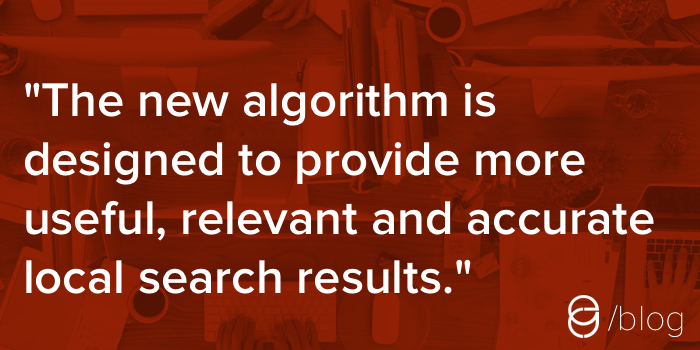 Google released a new algorithm that is designed to provide more useful, relevant and accurate local search results which are tied more closely with traditional web ranking signals. "Search Engine Land" has named this the "Pigeon Update." In the course of doing a little testing of our own, we found that some of our clients were showing up very well within some of their main keywords and were ruling the roost (sorry for the bird reference).
According to Google, the new local search algorithm will have deeper ties into their web search capabilities, including their multitude of ranking signals – along with their Knowledge Graph, spelling correction, synonyms and more. It will also improve their distance and location ranking parameters (a.k.a. Google Maps).
Another recent article from "Search Engine Land" claims that local directory sites are getting better visibility in Google's search results, which means that this update is their fix to the "Yelp Problem." This is not just helping Yelp, but a number of other local directories such as TripAdvisor and UrbanSpoon, among others.
This is more of a fundamental change to the local search ranking algorithm; it is not a spam change. According to "SEO Roundtable," Google would not provide the percentage of queries impacted by this change, but based on early reports, it is possible that a significant number of queries were affected by this local algorithm change.

A while back, Google dropped local results for web designers and SEOs. Now it seems that this is back – with a vengeance. This update seems to be benefiting local directory style sites with a higher ranking and better visibility (at least in some verticals). It remains to be seen, however, how small individual sites will benefit (if at all). There is a possibility that local search for the small business may have gotten lot more difficult.