Look around! Things have changed! And we're not talking a new coat of paint; we rebuilt this thing from the ground up: new colors, new fonts – new approach.
We are a marketing agency for the digital world. It's visible in our work, in our office, and now on our website. Here's why we made the change (and how it's reflected in our new site):
---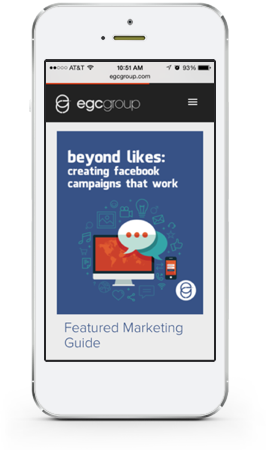 Responsiveness
For the first time ever, traffic to our site from mobile devices is going to eclipse the 20% mark this year. That's iPads, iPhones, Galaxies, HTC Ones, and every other handheld, tablet, and phablet out there, and they all come in different sizes and shapes. You used to be able to get by with a mobile site that offered only limited functionality. The technology wasn't there on mobile browsers yet, so you could say, "If you want to do anything more complex than what we have here, you'll have to go sit at your desktop."
But not anymore, so your site has to be responsive, fitting the screen of anybody who's visiting. With our new site, we look good on anything from a 27" iMac to an iPhone 4S. You can't get to it from a flip phone, but it'd look amazing if you could!
---
Social Integration
Along with viewing the internet in an entirely new way with mobile devices, web users are browsing and looking for information differently, too. The browsing experience – due to load times and on-the-go urgency, is truncated for mobile and users are looking for up-to-the-minute information that's bred on social – not the traditional homepage.
So we built social into the homepage for the best of both worlds.
Now, we display content from Facebook, Twitter, Pinterest, YouTube, Instagram, and our blog in one convenient spot. More than anything else, this helps first-time visitors get a little flavor of the agency: a little work, a little personality, a little thought leadership, and the occasional pet photo thrown in for good measure.
Whatever you're looking for, you can find it on the site.
Content is king, and we just built the castle.