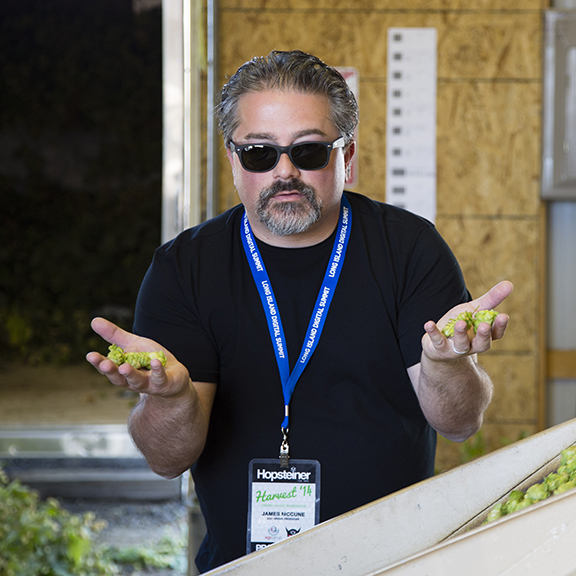 We sat down with Jim McCune Executive Director, Craft Beverage Marketing, EGC Group. (Well, with all of the amazing things Jim's working on right now, it was more of chasing him down in the office and asking for a chance to take a peek into what he's working on, and also to talk about the world of Craft Beer.) He shared insights into the growing industry, its challenges, and where it is headed.
The craft beer industry seems like it's exploded recently. What do you think are the key reasons for this phenomenon?
It started this month in 1978 when Jimmy Carter legalized home brewing in the US. It was the precursor to today's craft beer revolution. As people began exploring handcrafting their own beers, experimenting with new and exciting styles of beer, exploring new techniques and sourcing fresh, local ingredients – they changed the game.
As people experienced these full-flavored beers and acquired a taste of fresh hops, there was no going back. It created a conversation – a movement.
In a marketplace dominated by just a couple of industrial beer companies, craft beer gave us freedom of choice. Now, all of a sudden, we have local freshness and we have flavor.
But without huge advertising budgets, craft beer brands didn't have the same opportunity to broadcast their message. With the advent of social media, the Locavore and Farm-to-Pint movements (locally sourcing ingredients) quickly gained serious traction. Millennials became early adopters of social media and microbrewing, sharing their passion for the distinctive flavors of craft beer – setting the industry on fire.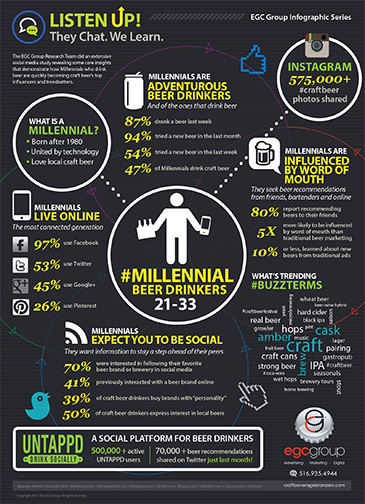 Is there a downside to the rapid rise of craft beer culture that creates particular challenges for craft brands?
The downside of craft beer for the big beer makers has been a solid, fast-growing loss of market share. While the movement has been growing for decades, the sudden recent growth took the industry – and the world – by surprise.
Similar to the fast food and soda brands that faced a massive decline because of the rise of the healthy living movement (and reacted with menu options like fruit and yogurt or brand extensions into bottled water) – the big beer brands are reacting.
The loss of 20% of their market share has prompted them to market "krafty" beers to look like authentic craft beer. The downside for craft beer is it has caused some confusion in the marketplace. But one of the things craft beer consumers are is savvy. And there's a growing backlash.
Another serious issue from the rapid rise is the shift in how retailers are displaying craft beers. It's the "wineification" of craft beer. It's similar presumption that wine shoppers don't seek brand names, but look for a particular style – Merlot, Cabernet, Pino. We're now seeing craft beers being grouped and sold by style as well – IPA, Pumpkin Ale, Pale Ale.
The loss of shelf-space and sheer volume of choice has made building brand loyalty very challenging.
How are you helping brands overcome these challenges and shape the conversation going forward?
People are tired of mediocrity in their beer and in advertising. They want something above and beyond the norm, and we're trying to help connect extraordinary craft beers to customers in new ways.
Just like the way Apple's 1984 ad refreshed the technology industry, digital media is allowing us to reach new customers using magnetic digital content. Our branding philosophy is iconoclastic in nature, celebrating the unique personas of the independently owned and operated microbreweries we work with, and craft messaging that's authentic to who they are and the quality they represent.
We're working to educate consumers who haven't yet been convinced that craft beer is the better value. And it seems to be working.
I was actually recently in Yakima Valley, WA, with our client – Hopsteiner – the world's largest hop grower and distributor. We produced a documentary-style video, capturing one of the largest hop harvests in history, which was driven by the sheer volume of aroma variety hops needed for craft beer. So we're helping raise general awareness about these farm-fresh, high-quality hops, as well as their exciting new experimental hop varieties.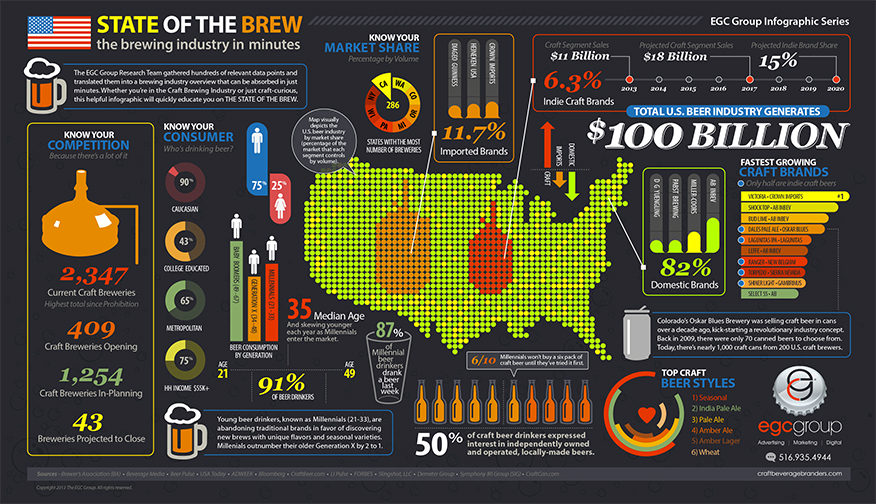 What trends have you seen this fall?
Seasonal beers continue to grow in popularity. It's one of the things that really helped craft beer grow.
Cider is another big trend. We're lucky here in NY to live where local, fresh apples abound. Craft beer paved the way and provided the methodology for hard cider to grow in popularity in half the time.
We're also seeing the growth of hard cider heavily tied to the Locavore movement, and it is gaining steam with people who want to enjoy a fresh and crisp handcrafted alcoholic beverage.
What do you predict will be the biggest trend in 2015?
Sour beer.
And quite possibly, small and big beer companies working together to collectively make great, tasty beers that are well-distributed. Because when the tide rises, all boats float.
Follow Jim on Twitter @JimMcCuneBev and visit our Craft Beer Portfolio: Craft Beer Branding.