What doThe Walking Dead, Jane the Virgin, Zach Galifianakis and Transparent mean for your budget in 2015?
October means "premiere season" for some of TV's most highly-anticipated shows.The Walking Dead premiered last week saw record viewers, making it the most watched episode of the hit series to date. The premiere of Jane the Virgin (an adaptation of a popular telenovela) won the CW network its most-watched Monday in years.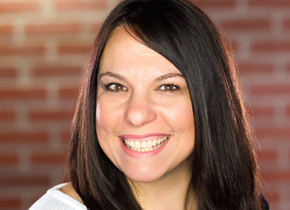 On the digital side, Transparent is making headlines for its rates of binge-watching, and this monthAmazon Prime (new to content production)announced it has ordered a second season. Netflix has seen its Orange is the New Black series become a monster hit, and last spring a presidential interview with Zach Galifianakis on Funny or Die's web-based Between Two Ferns was credited with a 40% boost to visits of HealthCare.gov. (And the episode received anEmmy nomination.)
Despite the pronouncements to the contrary, it is clear TV is not dead. It's very much alive. And digital is an exciting new frontier for advertisers. So how should brands approach the development of an advertising strategy?
Angela Mertz, EGC Group's Media Director, shares her insights. "TV is still strong. We need to look at broadcast and online video as part of the same TV budget. They can work together to support each other, increasing brand impressions."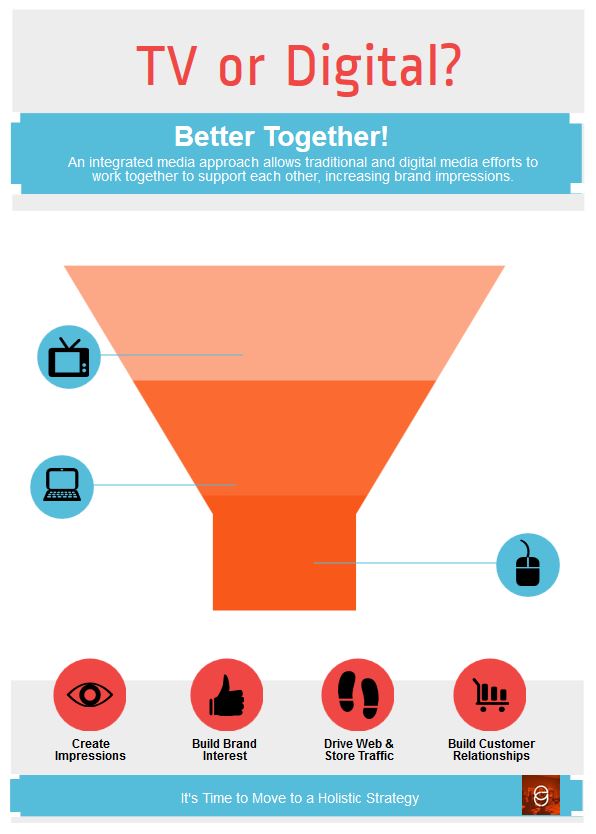 ROI is top of mind for brands as they evaluate the effectiveness of their investments. And there's been a push in the industry to develop a standard metric across platforms.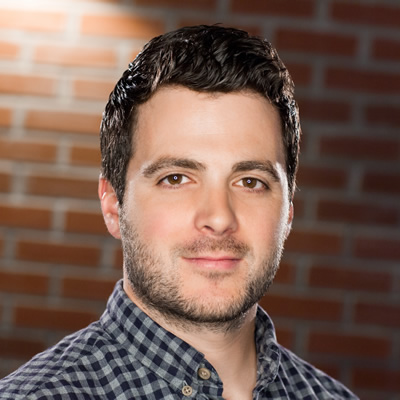 Analytics giants like Nielsen are looking at ways to achieve this, but EGC Group's Jared Del Prete, Director of Digital Strategy & Search, cautions, "Advertisers ultimately want to measure the impact of their ads, looking beyond reach and frequency and homing in on engagement, sales or ROI. TV and digital play a vital role, but because they're consumed differently, there are still many challenges with adopting a unified GRP-style (gross rating point) measurement."
Angela agrees. She says just as a PPC campaign can't operate alone, it requires the support of online and offline efforts that create intent. TV and digital don't work alone.
"We've seen a direct link between TV spots and PPC success, for example," Angela notes. "The TV ads are a catalyst to action, driving traffic to a brand's website. We've seen when the spots stop running, there's a definite dip in PPC."
The way she's approaching media buying with her clients in 2015 is an integrated approach that looks at TV and digital as part of one overall budget. "It's like a funnel," Angela explains. "Think of the top of the funnel as the broad, high-level TV audience, generating impressions, creating interest. As you narrow down the funnel, there are creative ways we can approach targeting specific audiences with digital video, reaching people likely to convert and become customers."
"SEO, PPC, TV, digital videos – if you marry all of these strategies together," Angela adds, "planning ahead about the best ways to allocate components of the overall TV budget, you can reach your desired audience in creative ways."
Brands partnering with media buyers have an opportunity to shift from reactive buys and break down silos that divide spending between TV and digital advertising, moving to a holistic strategic planning approach. It's time to take a bigger picture view of impact and how to achieve it.