Twitter recently added a new feature to its iOS app. This new Twitter home timeline tweak could have a big impact. The update highlights or recaps some of the top tweets you may have missed from accounts that you follow since the last time you logged in.

Twitter is one of the fastest paced social media platforms on the market today. Tweets fly by on the feeds of 284 million monthly active users.
Justin Bieber is going to be on "Comedy Central's Roast" is all anyone is talking about one hour, and the New England Patriots' "#DeflateGate" is the hot topic an hour later. There is an average of 6,000 tweets being sent out every second. This can be extremely overwhelming if you follow a lot of users, and even more overwhelming if you are new to Twitter.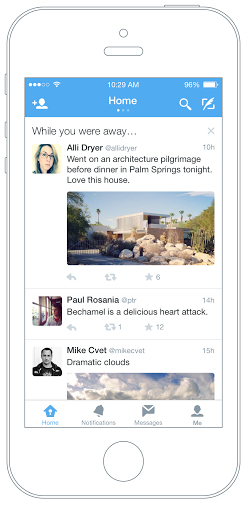 Social media is becoming integrated into more and more aspects of our lives today. You can see hashtags now associated with brand campaigns, events, TV shows and news stories. Even those who predicted social media would be just a fad are slowly making their way to actively using not only Facebook, but multiple social platforms, (even posting what they're eating for dinner on Instagram). This update will definitely help ease the transition for new users to the real-time experience that Twitter has to offer, helping this platform stand out as a social media staple.
This new update is called GENIUS, and it eliminates Twitter's Achilles' heel. A lot of things can happen while you're not constantly checking your phone. (You can't always stay connected.)
The new "while you were away…" feed will help fill in the gaps with a collection of the best tweets that you might otherwise have missed. Curating tweets you missed could help with one of the biggest complaints about the platform – feeling inundated with a never ending influx of updates.
"Oh, so it's an update like Facebook's highlighted timeline," you may be thinking. Not necessarily. Unlike Facebook's highlights feed, Twitter's new news feed will still show tweets in chronological order, keeping you in the loop in the fast-paced world that we're living in.
Many other social media apps (like Instagram and Vine) can learn from this update. If you haven't logged into Instagram or Vine in one day, you're out of the loop – unless you spend your time scrolling through all the content you fixed. This Twitter feature is perfect for the casual user of social media and could increase the number of monthly users for Twitter in 2015.
Twitter has officially launched this update for iOS users, but the platform expects to expand it for the Android and Twitter.com soon. There is currently no option to turn off the new feature. (Note: if you check your Twitter feed often, you won't see this feature as much.)