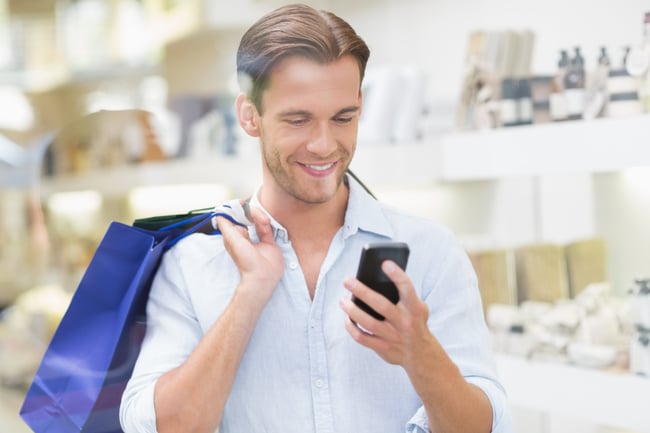 In an understatement, mobile advertising has become a dominant force. The world is not experiencing a mobile migration; it is experiencing a mass-mobile migration. And the conversion has been fast and extreme. What is interesting (and confounding) are different findings in the news as to how mobile is advancing in some ways, and changing in others.
A study by the Interactive Advertising Bureau reports that mobile ad revenue surged 65% to $32 billion (globally) last year. These figures are listed in article in Marketing Interactive which also states that mobile display has even surpassed the use of search. Furthermore, customers are shifting more toward app-based messaging platforms (which are geared toward mobile users). Among the big money-makers of mobile advertising (which should come as no surprise) have been social media sites.
In Fortune Magazine, Matthew Ingram lists some very impressive statistics. Facebook reportedly earned over $3 billion dollars in advertising last year, and with their recent inclusion of auto-play ads, the site should hopefully have further success next year. Even Twitter, which a couple of months ago announced a major reorganization of its resources, did not do too badly, and this year is likely to further improve its fortunes with the recent introduction of its mobile ad network, along with video formats.
Social media sites "know" their users, and so they deliver mobile ads that they think their audience would appreciate. When one is on a social media site, they tend to be more receptive (or actually want) to see what mobile ads might appear before them. This is not true, however, for all sites…
It may be hard to believe, but some websites are actually hurting because of mobile. Mr. Ingram writes of the negative impact that mobile has had on news media sites (as one example). In findings conducted by Pew Research Center, while over 50% of users have visited many news sites via their mobile devices, they have not stayed as long due to poor optimization. These same users are also less likely to click on ads, thus contributing to the lack of revenue.
As if that were not enough of a problem, mobile ads are apparently more difficult to promote than web ads. Mr. Ingram goes on to cite Jack Marshall in The Wall Street Journal, who states: "Selling advertising on mobile devices is proving difficult: It is hard to show mobile users enough ads, traditional ad formats like 'banners' perform miserably, and publishers can't easily do sophisticated tracking and targeting of ads."
Mr. Marshall mentioned "tracking and targeting," which brings us to another obstacle for mobile advertising, which are apps known as "content blockers," soon to be featured in the next update to Apple® iOS. Yes, the "content" that this app will block includes advertising, tracking (a major supplement to tell how well ads are performing), and additional unwanted content. Owen Williams has actually tried some of these new apps, and he provides details about them in TNW News. The advantages for mobile users is that they will not be inconvenienced by ads they may not want to see in the first place, and, the blockers will help enable speed of download times and improves cellular connection.
This latest development puts a real question mark on mobile advertising. Will content blocking hurt the great financial results that social media has gleaned from mobile advertising? Will those sites that already have difficulty in managing their mobile presence become obsolete? While it is too early to tell, developers and marketers alike will no doubt be monitoring ad performance and return even more closely than when they began their mobile campaigns.
Here is a very pertinent quote that was included from the Marketing Interactive article from Townsend Feehan, the CEO of IAB: "It's important that advertisers, agencies and publishers fully understand consumer behavior as the differences between the devices diminish and the potential for engagement with digital content grows."